Tuesday, March 5, 2013
3/05/2013 03:38:00 PM |
Posted by James Bucklin
|
Edit Post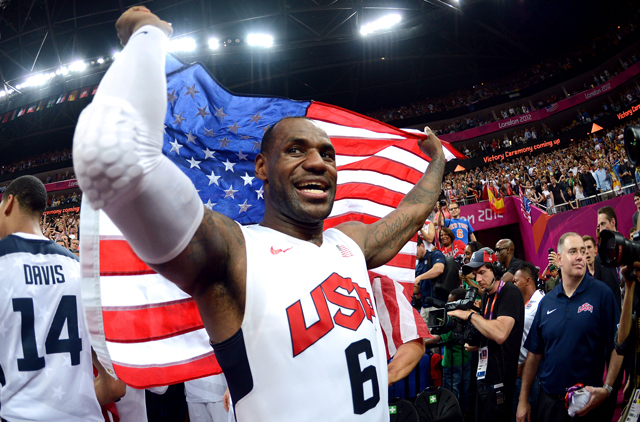 Hiding who you are as a sports fan is an idea of the past. Pretending to be a completely neutral party out of fear that others won't respect your opinions on the games we love is just out-dated thinking. We all have our "stuff." We all have a past. Every person sharing their thoughts on the NBA in a blog, on Twitter or anywhere else grew up loving a team. And as much as they may try to hide it, they still love that team.
For me, that team is the Boston Celtics. Therefore, I have seen Miami Heat forward and undisputed greatest basketball player on the planet LeBron James do some nasty things to my team. Things like eliminating the last hopes of an aging "Big Three" Celtics core in game seven of last season's Eastern Conference Finals. And then there was James single-handedly taking the '07-'08 NBA champion Celtics to seven games as a fifth-year player in Cleveland. Also countless things in between.
All things considered, as a fan of the Celtics I should hate LeBron James. Then why, on Sunday, did this writer gasp and think to himself, "Oh, crap" when James came down awkward on his left leg after an alley-oop attempt in the Heat's 99-93 win over the Knicks in Madison Square Garden?
Because if LeBron James were unable to play, the entire narrative of today's NBA that we all love would be changed drastically, like the demolition of a building. In a way, it would be tainted.
James finally won his first ring last season, and is the favorite to be the Finals MVP for each year following it until another dominant player has emerged. Let's say James were done for the rest of this season and the Oklahoma City Thunder went on to win the NBA championship behind a stellar performance by Kevin Durant. Great story, right? The new fresh face of the league collects his first ring the year after the King did so himself. But James would always be part of that great story. Durant's success would always have that LeBron-related asterisk.
Take Hakeem Olajuwon's Houston Rockets, for example. Tremendous teams. Winners of the NBA Finals in 1994 and 1995. But today, almost 20 years later, are those two titles usually perceived in conversation as the championships that the all-time great Olajuwon brought to Houston? Or are they seen as the two championships that Michael Jordan didn't win because he retired to play baseball?
Think more recently. Think 2009 Los Angeles Lakers. Kobe Bryant does it again with help from Pau Gasol, Lamar Odom and company. Another amazingly talented team. But you can't have a conversation about that team without mentioning that the defending champion Celtics lost their heart, soul and MVP-caliber power forward Kevin Garnett to a season-ending knee injury, preventing their return to the Finals.
It speaks to the importance of those missing pieces. When Jordan decided to retire and pursue baseball he left a hole where so much star power and importance should have been. When Garnett went down with his injury it took away the reigning champions opportunity to truly defend their crown. That is exactly what would happen if for some reason the NBA lost its current king.
LeBron James is undoubtedly the most important player of this current crop of stars. He is a necessity. The years of his career will always be referred to as "The LeBron Era." Sure, he's still got a lot of work to do to be listed alongside names like Jordan, Magic, Bird, Russell, Wilt, Shaq and Kobe, but when it's all said and done he has a legitimate chance to be there, and some feel on top.
Would the remainder of this season have still been entertaining if that iffy alley-oop landing had turned out to be a far more significant knee injury? Probably. The East would be wide open and a battle would rage between the James-less and Wade-led Heat, the Paul George Pacers, the 'Melo show and Rondo-less veteran Celtics. The Nets would be in the mix as well, and if Derrick Rose came back we would be having some real fun.
The Thunder or Spurs would probably beat whoever came out of that Eastern Conference, but twenty years from now, especially if LeBron came back for Miami and won another ring the following year, Durant's first or Duncan's fifth would always come along with that question mark.
After everything that the young James has accomplished, the NBA just simply would not be the same without him. A repeat ring is expected this season and if he doesn't accomplish that feat it would only be meaningful for the new champions if they defeated James. That is what makes LeBron James so important. And that is why even his haters should value his existence. Many love him, probably more hate him, but if James goes down and is unable to play, the NBA we love would cease to exist.