Saturday, July 7, 2012
7/07/2012 06:31:00 PM |
Posted by Quentin Haynes
|
Edit Post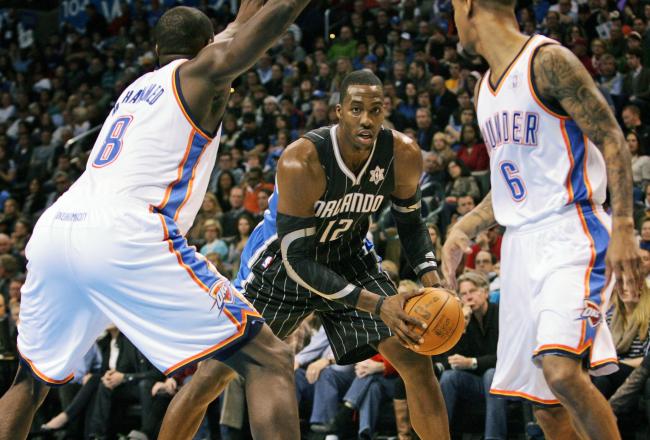 After all that happened, after LeBron won his NBA championship, free agents moving left and right, coaches getting hired and fired, and the Olympics are coming at us with full force, the biggest NBA storyline just happens to be six-foot eleven, 265 pounds, with a bad back.
Yes, once again, the Dwight-mare has crept up once again into the mainstream, and this time, we have some movement from, not just only Orlando but other teams seem to be moving into position to acquire Howard. The Houston Rockets seem to have blown everything up with the intent to acquire Howard. They acquired draft picks and prospects for chips in order to trade for Dwight. The Atlanta Hawks and new GM Danny Ferry made a couple of big trades to not only clear cap space but to jump into the Howard sweepstakes. This plan will require Dwight to become a free agent after next season. The Brooklyn Nets took on Joe Johnson's massive contract to form a big three with Howard as the centerpiece, and finally, the Los Angeles Lakers came back into play with the recent addition of Steve Nash.
Those shouldn't be the main teams that are inquiring about Howard. To me, there's two other teams that should make a play. The first is the Los Angeles Clippers. Dwight Howard wants to play with a premier point guard, and Chris Paul fits that bill. A deal of DeAndre Jordan, Blake Griffin, and Ryan Gomes' expiring contract for Dwight Howard and Jason Richardson. The Clippers would have the best defensive player in the league,the best point guard in the league, and oddly enough, the correct supporting cast of shooters/defenders around them. Now, we're talking about Howard/Paul trying to take over the Staples Center from the Lakers, while capturing the franchise's first championship. The two things Howard seems to want is the spotlight of a franchise (let's be fair to Howard, Orlando isn't the right stage for him), and the ability to bring the first NBA championship to a top market, and the Los Angeles Clippers provides both. From Orlando's end, you acquire Blake Griffin and DeAndre Jordan, who's not a really good player but he provides Orlando with a post player who can block shots and alter the opponent's offensive possessions with his mere presence.
The second team that should be inquiring about the services of Dwight Howard is the Oklahoma City Thunder. Oklahoma City isn't this major market like Los Angeles or New York but it has this college feel to it. I watched the playoffs and the atmosphere was amazing. The rafters are also empty, something that could attract Howard. The Thunder could also use a defensive upgrade, and the Orlando Magic need to come out of a potential Dwight Howard deal with some young talent and/or draft picks, and that's why Oklahoma City is a chic answer, because they have arguably four of the top 15 players under the age of 25. In almost any trade scenario involving Howard to Oklahoma City, James Harden and Serge Ibaka, but in order to acquire Howard, while being able to compete for a championship, Oklahoma City should trade Russell Westbrook, two first round picks, Kendrick Perkins, and Serge Ibaka for Dwight Howard, Chris Duhon, and Glen Davis.
From Oklahoma City's perspective, you acquire the best defensive player in the league to go with the best offensive player in the league in Kevin Durant and one of the most efficient players in the league in James Harden. You ideally win with three stars and supporting guys surrounding them. The three of Howard, Durant, and Harden would be very easy to build around, because all three guys are talents who do other things. Dwight's scoring and defensive ability will relieve any forward teamed with him in the front court, Durant's rebounding also helps that position as well. Harden's ability to run the offense gives the future point guard teamed with him, a chance to develop his niche in the Oklahoma City offense. Why keep Westbrook over Harden? Because the league is lacking on shooting guards, and again, Harden is very efficient. The Thunder have also made good draft picks over the years, and the culture in Oklahoma City, similar to San Antonio's, allows them to take low-risk chances with players with bad attitudes or terrible pasts. Now, Oklahoma City goes from this really young team who broke through, to a serious championship team, who can take down a Miami. While this trade would put some pressure on Reggie Jackson, Thabo Sefolosha, and Nick Collison, but the Thunder would have the ability to claim the throne as the best team in the West right away.
For Orlando, I think is a perfect trade for a couple of reasons. One, you get two players you can build around in Westbrook and Ibaka. Two players current general manager Rob Hennigan knows much about (Hennigan was a former assistant in the front office in Oklahoma City). Westbrook, who's a top ten player in his own right, could be built around, and Serge Ibaka is still developing as an offensive player, so both could explode statistically with a bigger role on another team. The second reason this is an ideal trade is the fact Orlando receives two first round picks (regardless of position, first rounders are becoming more and more valuable if you hit on them), and removes two monster salaries in Glen Davis (owed 20 million over the next three seasons) and Chris Duhon (seven million over the next two seasons). You receive Kendrick Perkins' contract, but I wouldn't be shocked if they could move that contract (A terrible 25 million over three seasons, but he's still a starting center who can defend the post. You wouldn't get a ton back, but it's still a moveable contract. Does ). The Davis/Duhon contracts? You can't move those, and that is something Orlando has a ton of on the roster. Remove the Duhon and Davis contracts, and Jason Richardson's deal is the only contract Orlando has to worry about. The Magic could be in a financial holding pattern for a season or two, but after that, the Magic could build around Westbrook and Ibaka, and could have a good nucleus moving forward.
Of course, with any trade idea there are potholes. For one, I don't think Oklahoma City wants to break up that young nucleus that just represented the Western Conference in the NBA finals, and as much as the media attack and force the blame onto Westbrook, he gives Oklahoma City a different dimension on the offensive end. Dwight Howard, the player who wants to leave Orlando, wouldn't exactly be excited to play for Oklahoma City, based on what's been rumored and reported. It seems like Howard only wants to play for the Brooklyn Nets, and he doesn't have any other ideal team he would like to go to. It hurts Orlando's chances trading him, because they can't get full value for him. As the Dwight Howard saga goes through its twist and turns, who knows how this story will end, but the one thing I do know is this is the trade that should happen, and both sides would win in this scenario.